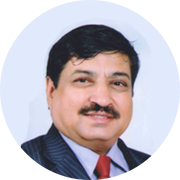 Presidential Address
Dear Friends and Colleagues,

Together with my colleagues at the Reforms Club Amravati, I wish you a very happy, healthy and prosperous New Year!

I am humbled, honored and privileged to assume the role of President of the Reforms Club Amravati (2017-2019).
I am deeply grateful to my predecessor, for their leadership and outstanding contributions to Reforms Club Amravati during their presidency, and the members of the Executive Committee of 2016 - 2017. I am inspired by their commitment to Club and all of their achievements. Indeed, the growth of club has been propelled collectively by the individuals and all the past presidents and Executive Committee and past members of the club. I look forward to continuing this important work towards fulfilling the mission of club.
In this endeavor, I am joined by my colleagues Hon. Secretary and on the Executive Committee 2017 - 2019 who represent the major regions of society.
I am confident that we will be steadfast in addressing the pressing challenges, and in the next two years our accomplishments will be many within Reforms. Reforms Club has celebrated 115 years and has a long list of achievements. After a wealth of achievements, however, a great deal of work still needs to be done to reach that goal.
I am proud to be given this wonderful opportunity. We have an exceptional legacy to foster friendship & fellowship.
Dear colleagues and friends let us reflect on our shared responsibilities to our club and together let us fulfill the dream.
Truly yours

Dr.D.T.Ingole
President

9422157902
dtingole@gmail.com